The history of a landmark building and the park project inspired by it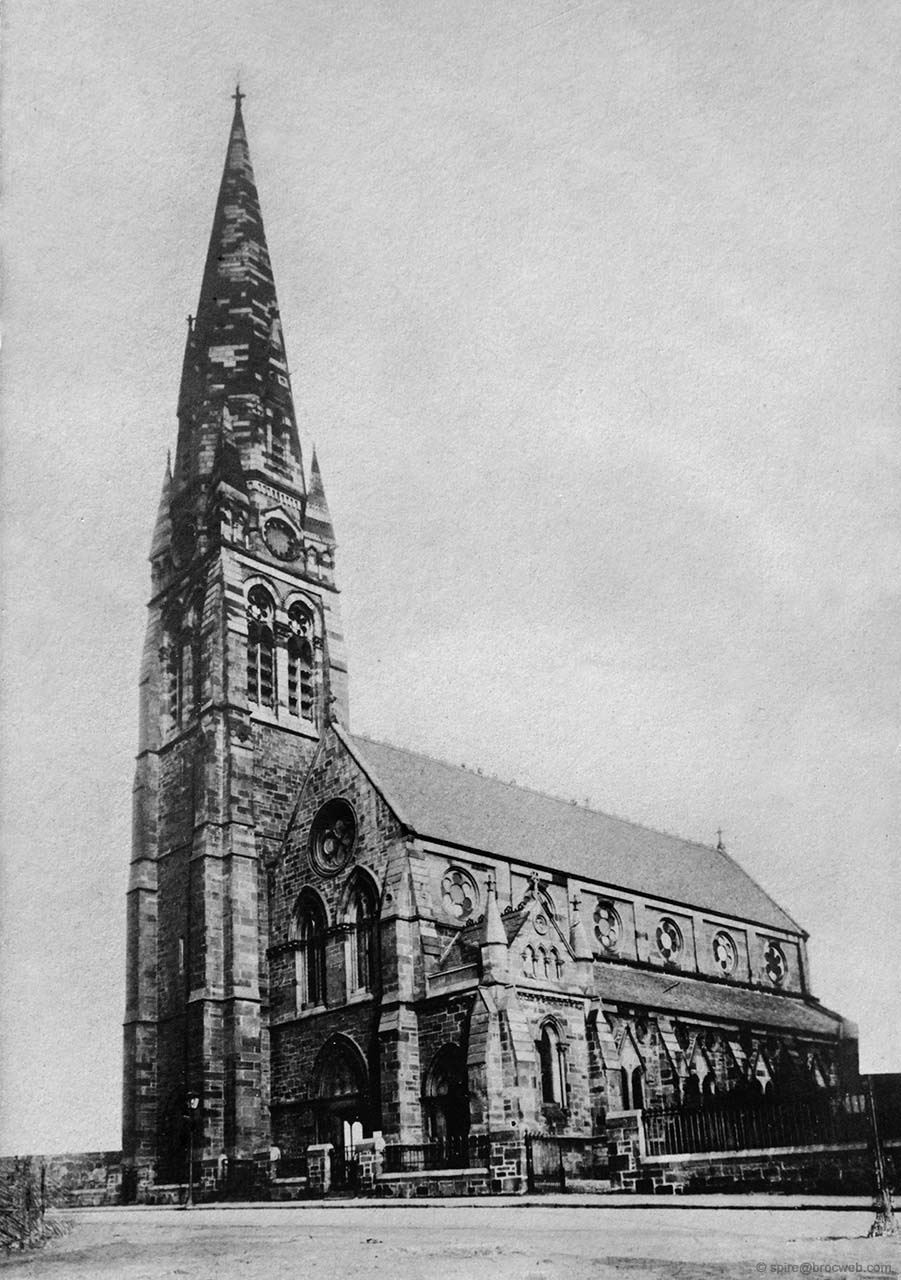 Roystonhill Spire is the only remaining part of Townhead-Blochairn Parish Church
Townhead Church was built thanks to a legacy from the prosperous iron workers, Bairds of Gartsherrie, who employed thousands at their Coatbridge foundry. James Baird of Knoydart built the church with money left by Alexander Baird of Ury who died in 1862, and it was opened on the 8th June 1866.
Designed by architects Campbell Douglas and Stevenson in the French Gothic style, the church featured stained-glass windows by the world-famous William Morris company, interior design and glass by Glasgow artist Daniel Cottier and sculptures by John Mossman. […more about the windows]
1866 The church was built for the Church of Scotland – on Roystonhill which was known then as Garngad Hill. It would serve the community for over 120 years.
1966 Celebrations took place for the centenary of Townhead Church.
1973 Townhead merged with the congregation of the former Blochairn Church to become Townhead-Blochairn Parish Church.
1992 Church was sold into private ownership, to be used as a warehouse.
1997 Despite being an A-Listed protected structure, the church building was demolished in September 1997 due to neglect, but the spire was saved after a determined campaign by local people.

Sculptor George Wyllie MBE brought press attention by creating a fiery cross below the spire to protest the destruction of what he called a "million pound spire", saying "we could never build this again".
2001 After surveys showed the spire was structurally sound, a restoration project commenced with stone masons repairing damage done by the demolition contractors and adding clock faces and mechanisms to the tower.
Partners in the Spire restoration included John Gilbert Architects, Glasgow Building Preservation Trust, Historic Scotland and Glasgow City Council.
Local people were employed and trained, as the spire became the centrepiece of the 'Royston Road Project' an award-winning scheme to create two parks, one at the spire and another at the historic Molendinar burn at Provanmill.
2005 Rosemount Development Trust formed a subsidiary company, Roystonhill Spire and Park Ltd, which took on responsibility for maintenance and preservation of the Spire and surrounding parkland.

2019 Funded by WREN the Trust made improvements to the Spire Park, with landscaping outlining the original Church footprint, improving biodiversity and making the park suitable for community events and activities, including recreation and health programmes. These improvements were delivered in cooperation with Spire View Housing Association who have created a new Roystonhill Community Hub from the former 'Rainbow Hall'.

2020 A public art and heritage project, funded by the Heritage Lottery fund, created 12 mosaic panels for the Spire Park illustrating local history, people's stories and memories of Townhead-Blochairn church. [..more about the mosaic project]
The preservation of Roystonhill Spire is a great achievement by the community. The spire, which has watched over the city since 1865, outlasted the 1960s tower blocks and remains one of the landmark buildings of the city of Glasgow.